journeystrength
Regular price
Sale price
$39.95 USD
Unit price
per
Sale
Sold out
This thoughtfully crafted guided journal offers a structured but flexible framework, guiding you to reflect, set intentions, and cultivate an empowering mindset. Filled with tailored prompts, interactive exercises, and evidence-based practices, it's a versatile tool for anyone seeking to enhance well-being, understand themselves better, and achieve their goals as they navigate their unique journey.

PRODUCT DETAILS

Measures 8.7 x 6.25 inches
Hardcover, printed soft-touch finish with gold detailing
Lays flat - french groove binding 
Made from 100% white recycled, compostable, and FSC certified paper
110gsm paperweight
333 pages, with 2 attached bookmark ribbons
Undated, 3 months of daily guided journal prompts
Language: English
ISBN: 979-8-9892368-0-0
Made in Turkey
Packaged in biobased recycle shrink wrap when shipped
SHIPPING + RETURNS

We are excited to share that we ship worldwide!

We offer FREE shipping to U.S. More details

Customers have 30 days from the date of purchase to request a refund. To be eligible for a return, item must be unused and still in it's original shrinkwrap seal. This ensures each journal is protected and each customer has the same great opening experience.

If your item arrived damaged please contact us at support@journeystrength.com
BULK ORDER

For orders of 10 or more, we offer special pricing.

Whether you're a dedicated health and wellness practitioner, an educational institution focused on holistic well-being or a coach aiming to meet the unique demands associated with training high-performing athletes, we make it easier for you to purchase more and save more.

For tailored special pricing on bulk orders, contact us at sales@journeystrength.com detailing your bulk order request, and we will be in touch.

Product(s) of Interest
Quantity
Delivery Address

Please let us know if there are any specific terms, conditions, or timelines associated with bulk orders. We are also open to discussing any additional options or recommendations you may have.
WHAT'S INSIDE

• Tailored Prompts: Prompts aid in reflection, self-discovery, enhanced well-being, promotion of self-awareness, strengthened resilience, and in cultivating an empowered mindset.

• Self-Discovery Prompts: Delve deep into your inner world with insightful questions for

• 14 Evidence-Based Practices: Practices rooted in research for effective results.

• Holistic Well-Being Tools: Equip yourself with practical exercises to nurture your mental, physical, and emotional well-being.

• Goal Setting: Empower your journey with focused intentions and purposeful goal-setting.

• Dive Deeper: Explore each tool extensively with dedicated sections for further reflection on practices and insights

• Build Your Toolbox: Curate a collection of tools that resonate with you, creating your personalized kit for journey.

• Flexible and Guilt-Free Journaling: Start anytime with an undated format, allowing for a seamless and pressure-free journaling experience.

• 3-Months of Intentional Morning and Evening Check-Ins: Begin and end your days with purpose, grounding yourself in mindful reflection and intention.

• QR Codes for Added Resources: Easily access a library of supplementary materials and information to extended learning and application.

• Moments for Gratitude and Celebrating What's Going Well: Take a moment to appreciate the positives in your life and acknowledge your achievements, no matter how small.

• Daily Brain Dumps: Clear your mind by jotting down thoughts, ideas, or worries, allowing for mental clarity and reduced stress.

• Modern Aesthetic and Design: The journal's contemporary visual appeal complements its user-friendly layout, enhancing the overall journaling experience.
TABLE OF CONTENTS

Tools for the Journey
A Note from Rachael
How It Works
Getting the Most out of It

PART 1: TOOLS

Self-discovery

Know Your Values
Know Your Passions
Know Your Strengths
Know Your Goals 
Celebrate Your Wins

Mindset

Self-talk
Self-compassion
Reflection

Wellbeing

Breathwork
Movement
Journaling

Your tools

Taking Inventory
Your Unseen Tools
Your Tools for the Journey

PART 2: CHECK-IN + CHECK-OUT

Breaking It Down

Morning Check-in + Intention
Evening Check-out  + Reflection

About the Author
Thank You
References
Share
View full details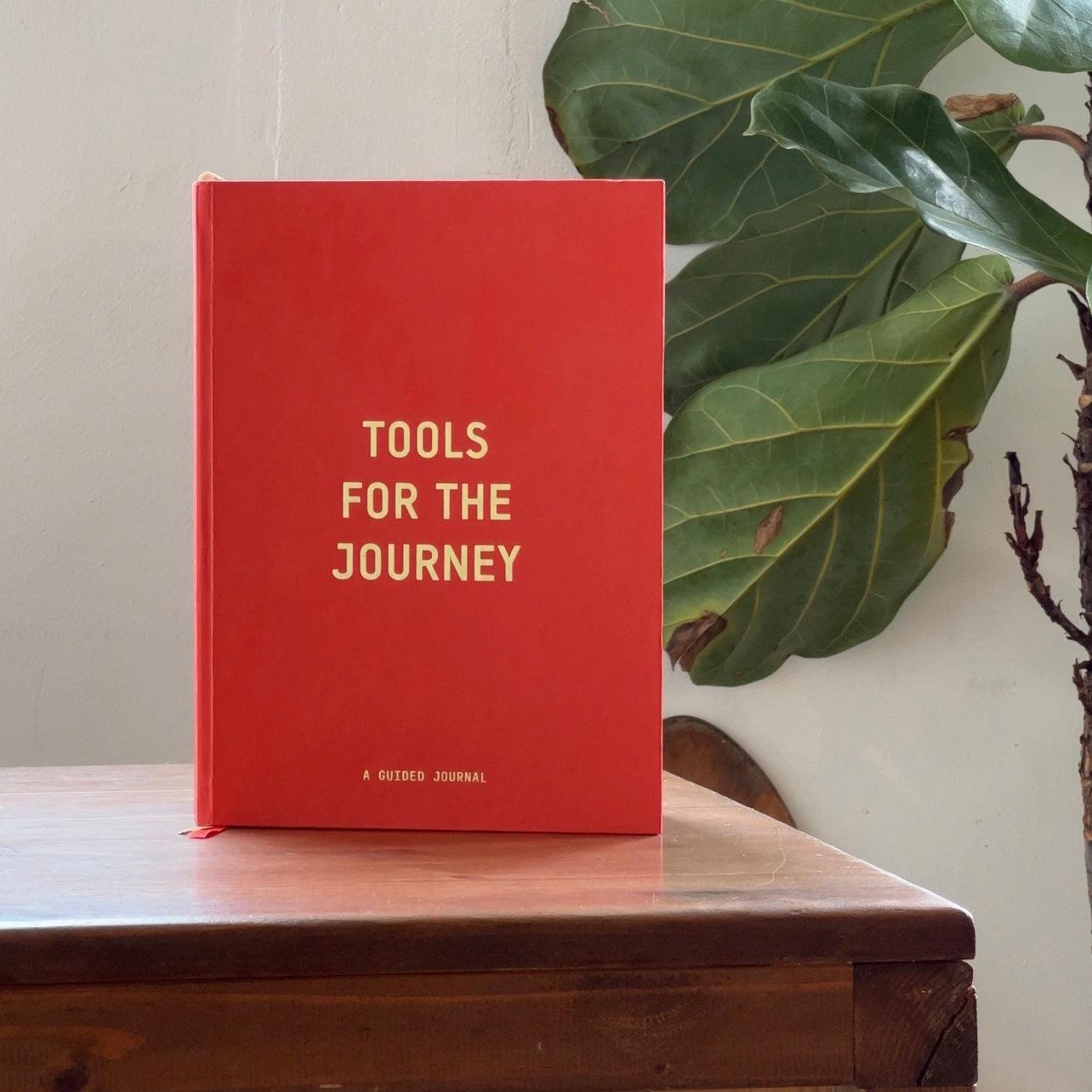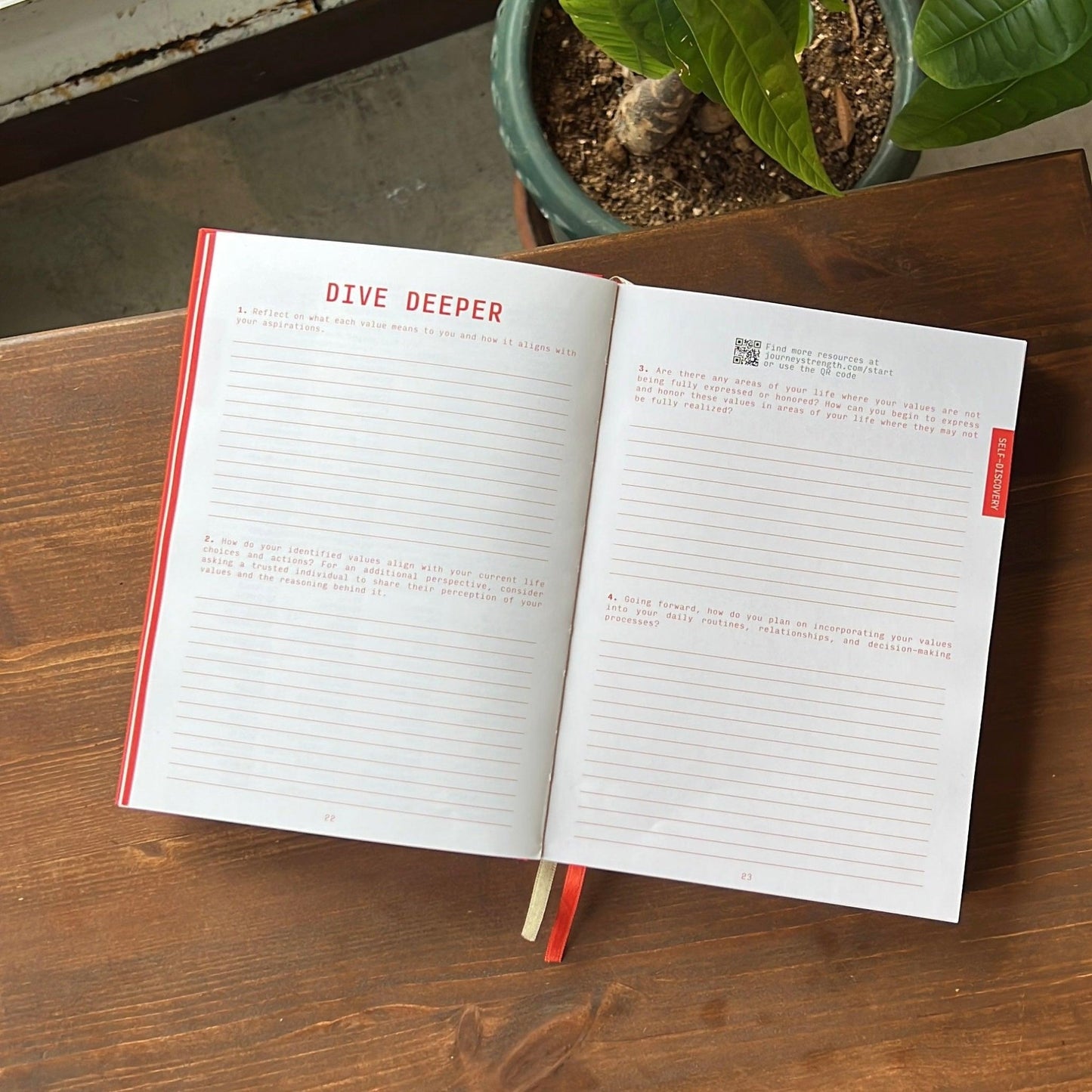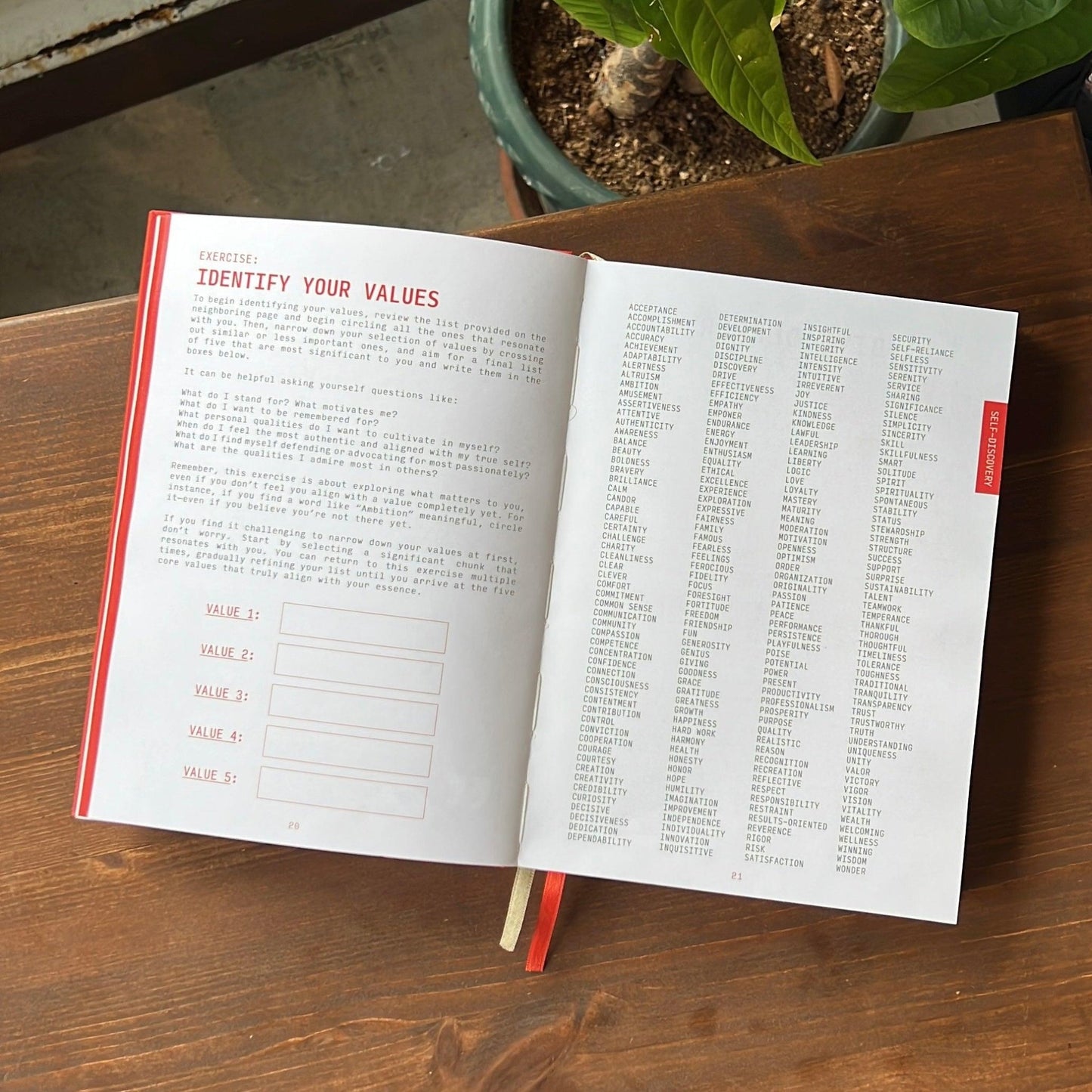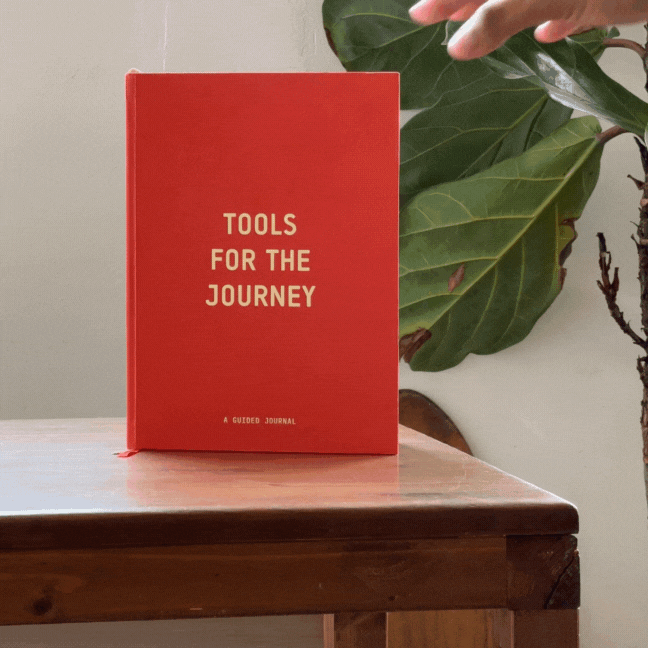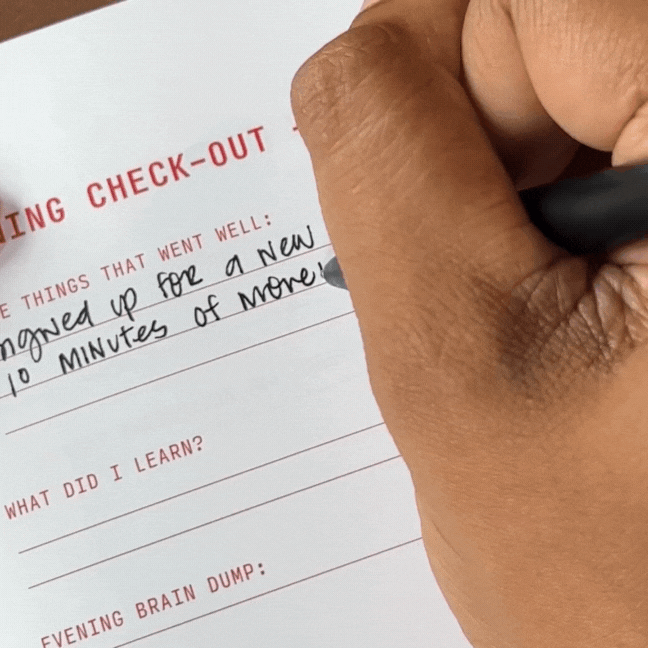 FEATURES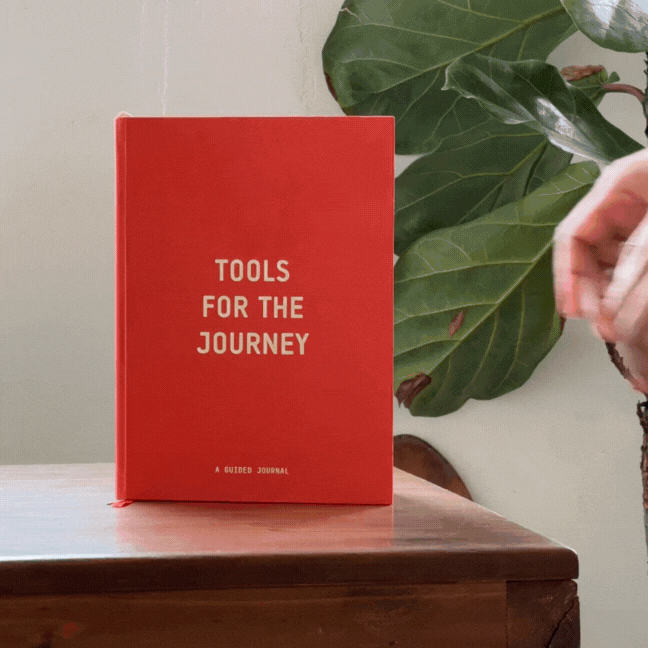 Evidence-Based Practices

Every exercise is rooted in research. This means your journey isn't guided by guesswork or generic advice, but by methods proven to support you on your journey.
Access to Exclusive Resources

By using the QR codes provided, you gain access to a vast variety of resources, including podcasts, recommended readings, insightful articles, strengths assessments, and much more, designed to enrich your journey with each tool.
Undated Format

Our journal is designed without specific dates, allowing you the flexibility to start your journey whenever you're ready, and to progress at your own pace.
Interactive Exercises

Engage with the journal through interactive exercises that prompt reflection, stimulate creativity, and guide you towards deeper self-awareness and growth.
Time-Efficient and Deep Exploration

Life is busy, and we get it. That's why the Tools for the Journey Guided Journal is designed to fit seamlessly into your routine. Whether you have a quiet hour to delve deep or just a few minutes for a quick check-in, this journal adapts to your pace and preferences. It's all about making self-discovery work for you, no matter how hectic life gets."
Tailored Prompts

Our prompts are crafted to be adaptable, allowing you to explore a variety of aspects in your life journey, ensuring a personalized experience that resonates with you.
Reflecting on Progress

Regular reflection is essential for growth. Our journal provides dedicated sections for you to track your progress, celebrate achievements, and learn from challenges.
Continuous Growth

Your journey with us is an ongoing process. With a curated collection of tools and resources, you'll have everything you need to continue growing and evolving.
Mindful Moments

Engage in practices that anchor you in the present moment, fostering mindfulness in your daily experiences.
Embrace Your Uniqueness

We celebrate individuality. Our journal encourages you to embrace what makes you unique and helps you tap into your strengths for a more empowered journey.
Elevate Your Mindset

Unlock the potential within you. Our journal provides tools and exercises aimed at nurturing a positive and empowering mindset, enabling you to face challenges with confidence.
HOW IT WORKS
Select Your Starting Point

Begin your journey by choosing between two distinct sections. Dive into Part 1 for tools tailored for self-discovery and growth, or explore Part 2 for daily check-ins and check-outs to maintain mindfulness and intentionality.
Engaging Practices

Immerse yourself practices, insightful prompts, and practical exercises. These are designed to guide you through a transformative process of self-reflection, self-discovery, and personal development.
Explore Deeper Insights

The "Dive Deeper" section offers additional reflection prompts and a link to recommended readings, podcasts, quizzes, and resources to enhance your self-discovery journey.
Start Each Day Mindfully

In Part 2, set intentions with a morning check-in, and conclude your day with a reflective check-out. This practice fosters a deeper connection with your inner self and empowers you to navigate life with intentionality.
Evolve Your Journey

Use the journal's reflective tools to continuously refine your journey. Embrace the journal of mindful self-exploration and growth.
SELF-DISCOVERY:
In this foundational section you'll set off on a transformative guided journey of self-discovery. We believe that the first step in crafting a fulfilling and purpose-driven life is understanding the very tools that make you uniquely you.
MORNING CHECK-IN + INTENTION
Your day begins with intention. Here, you'll cultivate a mindset of gratitude and set the tone for the hours ahead. Through thoughtful prompts and practices, you'll align your actions with your aspirations, ensuring each day is purposeful.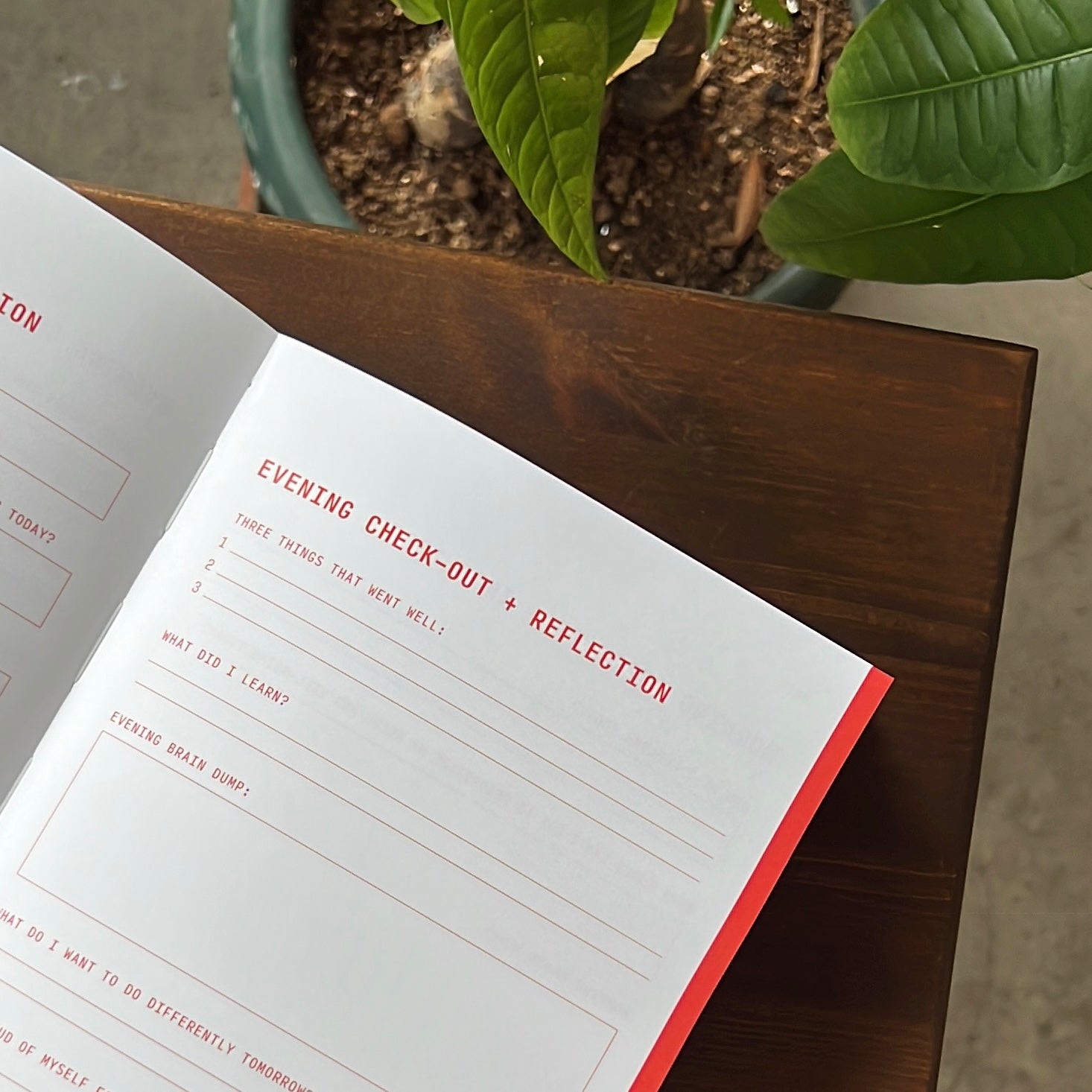 EVENING CHECK-OUT + REFLECTION
As the day draws to a close, you'll engage in a reflective practice that invites gratitude and self-compassion. This step fosters a sense of closure and prepares you for restful evening.
JOURNEY INSIGHTS: FROM OUR EARLY ADAPTERS
STARTING THE DAY INSPIRED AND ORGANIZED

"It took the overwhelming feelings of journaling away. It was simple and straightforward direct and left my mind feeling organized and also inspired to start the day. For a mom to have her "mind feel organized" is something special."

- Erica B

UPLIFTING NIGHTTIME ROUTINE

"Journaling before bed has made me take time to have document the times I have caught my negative talk and then realign myself with what I did well that day."

- Jen C

A JOURNEY OF SELF-EXPLORATION

"I was able to do some in-depth exploration into what really lies deep below my surface when it comes to what I really want to do and what I really want to accomplish."

- Spencer B
Created and designed by Rachael Adams
As an Olympic athlete, Rachael's journey wasn't a straight line to success, but rather a winding path filled with overcoming setbacks, facing doubt, self-discovery, and growth.
She combined her athletic background and passion for empowering individuals as the founder JOURNEYSTRENGTH. Her mission is to inspire individuals to approach life with purpose, embrace challenges, and celebrate their unique journeys.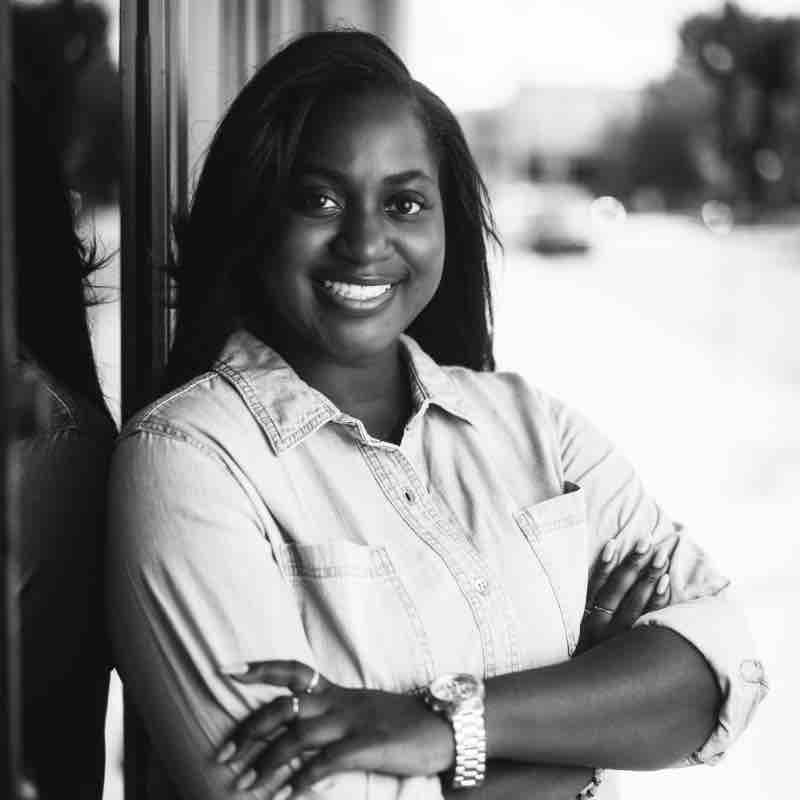 With guidance from Dr. Ashley Zapata
Dr. Zapata is a skilled and dedicated mental health, sport performance, and wellness professional specializing in sport and performance psychology with Elite/Pro/Olympic athletes. Learn more.
Her expertise and guidance were instrumental in shaping this journal.
Community Excitement:
Your voices, our inspiration!
Q&A
What is the recommended age range?

This guided journal is designed to benefit individuals from high school age and above. It encompasses all levels of high school, making it suitable for teenagers and young adults as well as a wide range of adult users.
What makes this guided journal stand out from other methods or platforms?

Our guided journal stands out for several reasons. First and foremost, it takes a holistic approach, blending evidence-based practices with self-discovery prompts, all with a strong emphasis on resilience-building.

What sets it apart even further is its dual functionality. This journal is thoughtfully designed to cater to both those seeking deep self-discovery journeys and those looking for a daily mindful moment.

It's divided into two distinct parts, allowing you to choose your path.

This flexibility makes our journal a versatile companion, catering to a wide range of individuals and their needs.
Can I use this journal if I'm new to journaling or self-reflection?

Yes, definitely. The journal provides a welcoming and accessible framework for those new to journaling or self-reflection. It offers guidance and prompts to help you confidently and effortlessly put ink to paper.
Who is this journal for?

It is designed for individuals who are committed or ready to commit to their personal growth and self-discovery journey. It's for those seeking practical tools and exercises to enhance their well-being, clarify their values and goals, and cultivate a resilient mindset.

While it draws inspiration from Rachael Adams' experiences as an athlete, the journal's tools are applicable to a wide range of individuals from different walks of life, including students, professionals, creatives, stay-at-home parents, and anyone navigating their unique path.
Does the journal lay flat?

Yes, the journal is designed to lay flat, providing ease of use and allowing you to comfortably write and reflect on its pages.
Will there be any additional resources?

In addition to the transformative practices and exercises within the journal, we've integrated QR codes throughout its pages.

By scanning these codes, you'll be linked to a dedicated page offering podcasts, recommended readings, insightful articles, strengths assessments, and much more.

It's a way to dive even deeper into each tool and concept.
Can someone with a hectic schedule use this journal?

We recognize the demands of modern life. That's why our prompts are designed to be flexible. Whether you have ten minutes or an hour, our journal adapts to your timeline. It's not about quantity, but quality. By dedicating a small part of your day to reflection, you'll notice meaningful shifts over time.
How can I integrate this journal into my daily routine?

The journal provides morning and evening check-ins, reflective practices, and intention-setting exercises. These practices can be seamlessly integrated into your daily routine, helping you start and end your day with purpose and mindfulness.
Can I use the journal for specific goals or intentions?

Yes, the journal is adaptable to various goals and intentions. You can use it to focus on specific areas of personal growth or to address particular challenges you may be facing
What kind of prompts and exercises can I expect in this journal?

The journal features a range of prompts and exercises that encourage self-discovery, self-reflection, gratitude, intention-setting, and mindfulness. It also includes practices to build resilience, set goals, track progress, and celebrate milestones in your journey.
Do you have bulk order discounts?

For orders of 10 or more, we offer special pricing. Simply reach out to us at sales@journeystrength.comwith the details of your bulk order request, including the product(s) of interest, quantity, and delivery address. Feel free to share any specific terms or conditions. We're also open to your suggestions and recommendations!
When will pre-orders ship?

All pre-orders are estimated to ship in early November.

Please note that international orders may be subject to customs processing and the actual delivery time may vary based on distance and other logistical factors.

This timing allows for a comfortable margin, ensuring your guided journal arrives well in advance for a fresh start in 2024 or as a thoughtful holiday gift.