Have you ever been so upset because of the actions of a boss? teammate? coach? stranger? Teacher? or worried about if a situation was going to come out in your favor?
I HAVE! There have been times when I've spent SOOOO much energy being frustrated by another persons actions, effort, or attitude and it wasn't until I REALLLY realized that I can ONLY CONTROL certain things is where I found my peace and solution. It's simple, but so easy to forget.
"I can control how I show up in my relationships, but I can't control what other people think of me. I can control how much time and effort I put into preparing for a job interview, but I can't control whether I end up getting the job. I can control how diligently I work on a piece I submit to a competition, but I can't control where I'm placed in that competition. In all of these situations, we can influence the outcome, but we can't control it.
Others know they can't prevent bad things from happening, but they worry about them anyway. They fret about everything from natural disasters to deadly diseases. Their worries keep them occupied, but ultimately, they waste their time and energy because worrying doesn't do any good."
becomingwhoyouare.net
A reflective exercise
The number one thing that gets me back on track to focusing on what I can control is WRITING IT OUT. becomingwhoyouare.net walks you through my process PERFECTLY.
Making a visual list of what I can control and CAN NOT control really gets me back on track and focusing on what matters. Focus on what I can control AND LET THE REST GO!
Think of an ongoing unresolved situation in your life. Write a brief outline of the facts and why it feels unresolved for you.
What can you control in this situation? Make a list
What can't you control in this situation? Make a list.
Being honest with yourself, on which of the above things are you spending most of your energy and attention right now?
How can you focus more on the things you can control? What would that look like?
How do you remind yourself to focus on the things you can control, rather than the things you can't?

becomingwhoyouare.net
Let the stuff you can't control GOOOOO.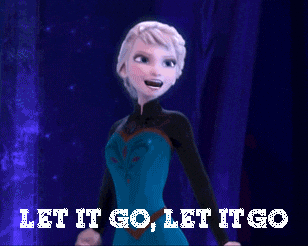 And get back to focusing on what you CAN control.
"You can't prevent a storm from coming but you can prepare for it. You can't control how someone else behaves, but you can control how you react. Recognize that sometimes, all you can control is your effort and your attitude. When you put your energy into the things you can control, you'll be much more effective."
It's not EASY, but I really believe writing it out and writing through it really helps! Let me know if you give it a try 🙂
LET IT GOOO *frozen voice*
My name is Rachael Adams and during my journey to becoming an Olympic Medalist in 2016 I created journeystrength to create a home to make content and share words for others (and myself!) to be able to take with them on their journey to remind them of how strong, capable, and enough they are during moments that they forget. It's now developing into a place to dive deeper into wellness, growth, and so much more!